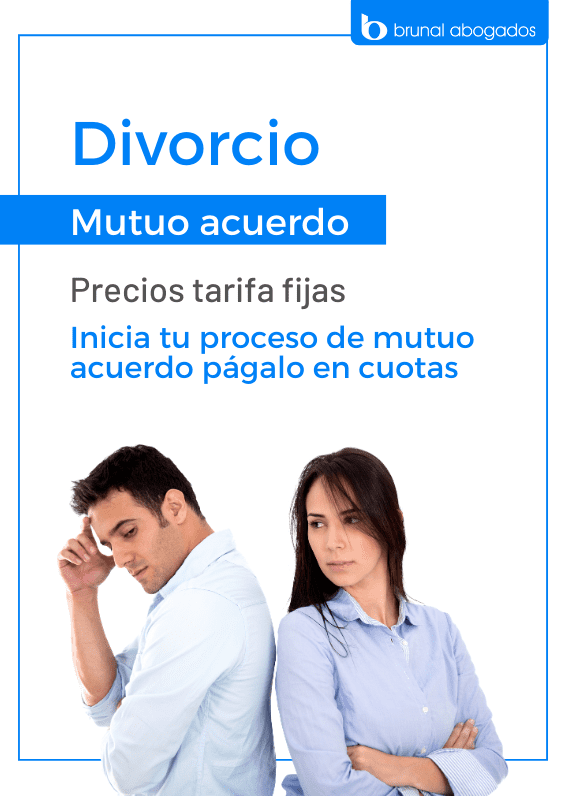 ---
Achieve a divorce with children by mutual agreement

It is an agile process of 30 working days.

It is inexpensive and only requires a lawyer
---
Divorce with children: lagreements concerning minor children of the marriage shall be subject to the approval of the family defender.
Notarial process: It is filed before a notary by application that can only be submitted through a lawyer.
Terms and Conditions: Does not apply to childless divorce y divorce property, does not include notary fees which range from $400,000 to $450,000.
---
tel: (57.2) 397 61 63 / 396 18 32 cell: 3003009859
e-mail: abrunal@brunalabogados.com web: www.brunalabogados.com
We are a family law firm that is why we want to accompany you in your divorce process with children and without assets by mutual agreement, because we know that the family is the most important thing and that closing cycles in a conciliated way is possible!
How long does the process take?
In Colombia, divorce proceedings by mutual consent with children and without assets, have a special procedure that allows them to be processed in an estimated period of one month and a half before a notary.
Competitive rates and payment in installments
This process necessarily requires the accompaniment of a lawyer and that is why at Brunal Abogados we have designed the service of Express Divorce with child, which offers you an accompaniment at one of the best prices in the market.
How much are the notary fees?
It is paid directly to the notary's office, the approximate prices for 2021 are:
Divorce with liquidation of marital property at zero "0" estimated value $400,000.
If there are minor children in the marriage, for each child the estimated fee is $50,000.
What is included?
Initial appointment. Meeting in our offices or by telephone, to discuss the work to be done together and to bring the divorce process with children to a successful conclusion.
Full support. It includes the preparation of the divorce petition and its presentation to the notary, the creation of a divorce agreement that includes the liquidation of the marital partnership, the agreement regarding the children and receiving their public deed at the end of the divorce.
Formalities and filing. The lawyer will handle the filing of documents with the notary.
Confidentiality. The information you share and everything you discuss while working together is protected by attorney-client privilege.
Does it include the liquidation of the marital partnership?
Yes, this will be presented at zero "0", taking into account that this service is only for those who do not have assets acquired within the marriage. If you have goods click here.
What is NOT included?
Notary fees for 2022 range from $4,000,000 with a single minor.

Agreement regarding assets. This service is only for those who do not have assets acquired during the marital partnership. If you have assets click here.
Additional work by the attorney after receiving your divorce deed.
How does it work?
Ask us about your case, get the best price and make the payment. We accept all forms of payment.

Send proof of payment and your contact information to abrunal@brunalabogados.com.
Let's schedule an appointment! We are ready to start your process.
DIVORCE
---
Documents
1. Civil registration of marriage. If you have a Catholic marriage certificate and it is not registered before a notary this does not mean that you are not married, you ARE married, the step is to proceed to register it in a notary to obtain the civil registry of marriage and thus to be able to initiate the divorce.
2. Copy of identity documents

3. Civil registry of birth of the spouses

4. Civil registry of birth of children

5. Power of attorney and divorce agreement
Cessation of civil effects of marriage
(Requires the same documents as for divorce)
In order to cease the civil effects of the marriage, it is necessary to register the religious marriage before any notary or registry office.
For the registration it is required:
Copy of the marriage certificate authenticated and registered with the Curia
Identity card.
---
Important
Divorce or cessation of civil effects of religious marriage requires representation by an attorney.
---
To bear in mind
As there are minor children, it is necessary to present an agreement for alimony, custody and visitation.
---
Liquidation of marital partnership
When no assets or liabilities have been acquired during the life of the marital partnership, the liquidation is presented as zero "0".
Divorce with children videos